---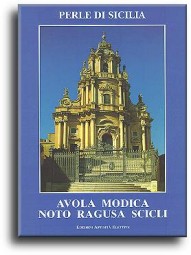 Avola, Modica, Noto, Ragusa, Scicli
Author: Giuseppe Iacono
Pages: 174
Publication: July 1998
Available in English, French, German and Italian language.
Information about how to purchase this book
To start and discover this wonderful part of Sicily, a true island within the Island you need just a few but necessary things: good shoes, a lot of curiosity and a camera so to catch all of the bauties of this wonderful land, whose colours and tastes you will bring in your heart as well as in your mind.
You will know the myths, the archaeological sites, the beaches, the natural areas and the most beautiful places.
We will suggest you where to go and taste local dishes, where to stay and which souvenirs to buy. You will be enchanted by people`s simpaty and cordiality. You will be amused by participating to expressive festivals as well as by participationg to gougeous and spectacular feasts.
You will experience a way of living that will give you unforgettable emotions, fully engaged between past and future.
The author collected in this volume the genuine soul of this splendid location, along with beautifulst pictures and a lot of useful information such as timetables, lodges, restaurants, stores and a calendar for events covering each month of the year.