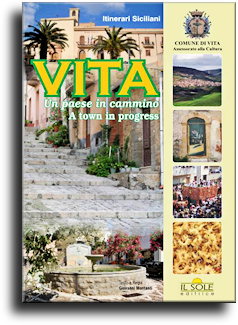 Vita, a town in progress
Text and Direction Giovanni Montanti
Voice over Rick Brisbane
Shooting, Assembling and Post-production Gianni Basciano
Duration min. 35
Available in English and Italian language.
Information about how to purchase this book
Situated in the middle of one of the most interesting tourist itineraries of Western Sicily, in a historically rich territory set among low hills blanketed by olive groves and vineyards, Vita is a charming town in which it is still possible to live basically, a marvellous site which stimulates emotions exalting the spirits which recall the memory of traditions, usages and culture.
To understand the true essence of this land and its peoples and the events tied to devotion, tradition and culture take a stroll of discovery along excursions and rest stops and pause to admire its picturesque nooks, fountains, staircases and gypsum doorways - the "murals".
The history of Vita is an exceptional voyage of more than 400 years through barons, revolutions, false starts, rubble and reconstructions.
The voyage of a town and its events set against an enchanting background and fascinating character. It is the great highway of a little community whose future has just begun.
---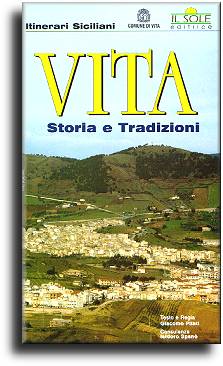 Vita: Storia e Tradizioni
Text and Direction Giacomo Pilati
Voice over Giancarlo Cara
Shooting Enzo Lucchese
Post-production Lucchese Video
Duration min. 38

Information about how to purchase this book
Rising in the part of the western Sicily richer of memories and traditions, and surrounded by sweet reliefs, Vita shows itself like an evocative and cultural place.
Its forests rich of healty air, its houses of the historical center made of tuffs and plaster (typical local way of building), its fountains, its extraordinary landscapes covering the more interesting paths of the province of Trapani, all of this makes Vita an alive and full of hopes country.
Vita faced problems like emigration and earthquakes, and now values its memory through the stones of its historical center which have seen revolutions, barons, heroes.
Vita relies upon its traditions (the feast of our Lady of Tagliavia, the breads of Saint Joseph) and upon its natural resources (the Forest of the Barony) in order to introduce itself to all as a modern country (sport structures, auditorium, library for boys) that only asks to be loved.