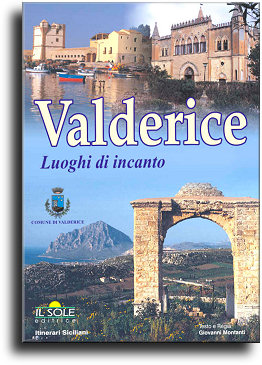 Valderice Places of Enchantment
Text and Direction Giovanni Montanti
Shooting, Assembling and Post-production Gianni Basciano
Voice over Martin Russell
Duration min. 50
Price:
DVD: USD 50,00 (included mail delivery service to your address)
Available in English and Italian language.
Information about how to purchase this video
Gently situated on a green hill, surrounded by luxurious gardens and kissed by the sea, in the heart of a territory that calls forth strong passions and stimulates a taste for beauty, Valderice pridefully upholds its history created by great men and small events.

Its panoramas, which in all epochs have been described by travellers as being among Sicily`s most impressive, its expanse a reference point for the rural social and cultural civilization, the villas which make possible for Erice`s and Trapani`s wealthy class the peace of the countryside, the churches and votive shrines, the pine forests, the parks, all of which render Valderice enchanting are shown and described in this documentary dedicated to those who admire Valderice and to those who wish to discover its enchanting locales, its archaeological sites and its workplaces, places of pleasure and of worship, memorable places, relaxing places, paces of happenings and of solitude.
---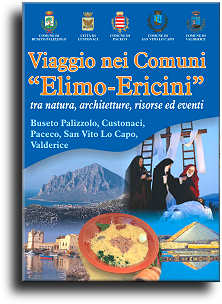 Travel in the Elimo-Ericini Municipalities
Buseto Palizzolo – Custonaci – Paceco – San Vito Lo Capo - Valderice
Text and Direction Giovanni Montanti
Shooting Gianni Basciano
Assembling Gianni Basciano
Duration min. 30
Available in English and Italian language
Information about how to purchase this video
Made by Association of the "Elimo-Ericini" Municipalities
At the westernmost point of Sicily, there where the Mediterranean and Tyrrhenian Seas meet, history and myth conspire to bring to life an incomparable and fascinating ambience.
Erice, the mountain known for centuries as "San Giuliano", towers over a mild valley suffused with a common history of customs, symbiotic lifestyle and civility.
During a spontaneous and leisurely economic and social development involving the countryside of Erice, the pervasive agricultural practice and the popular devotional sentiment have determined the rise of settlements around courtyards and sanctuaries in small villages and maritime towns whose growth have facilitated the rise of urban centers, now become autonomous Communes.
A history begun centuries ago, yet still flourishing today. A history written in the pathways of Nature, on the crystalline seas, on the walls of courtyards and towers, on the naked earth under the clear sky.
A history that is the patrimony of each individual town and of all who, whether fom Paceco to Valderice, from Buseto Palizzolo to Custonaci out to San Vito Lo Capo, daily ehert themselves to render eternal legends and myths and to preserve from oblivion one of Sicily`s most fascinating locales.
---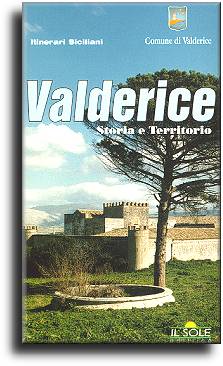 Valderice Storia e Territorio
Text and Direction Giovanni Montanti
Shooting and Assembling Enzo Lucchese
Voice over Giancarlo Cara
Post-production Lucchese Video
Duration min. 50
Price:
DVD: USD 50,00 (included mail delivery service to your address)

Information about how to purchase this video
More than single artistic or monumental masterpiece, it is the harmony of the whole which creates evocative atmospheres, and predisposes soul and mind to higher levels of sensitivity.
In Valderice, this harmony can be felt everywhere: in the scenarios, which visitors and researchers have defined the most evocative in Sicily; in the ancient court-yards, points of cultural and social reference of the rural civilization; in the noble villas, where noblemen from Erice and Trapani have found rest in the midst of the country, for approximately two centuries; in the churches and in the semi-public oratories, symbols of the strong relationship that has always tied the inhabitants to religiousness. The grayish walls of the ancient homes, the clean facades of those that have been refinedly restructured, the pine forests, the parks surrounding the villas, the suburbs, the most secluded corners of this pleasant town, all tell a story made of small events and grand, valuable men.
Valderice recognizes itself in this story, recalls it, and lives it every day, to preserve the sense and the values of it all, and to project the cultural patrimony towards tomorrow, for only this patrimony can make the present eternal.
---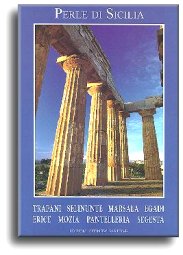 Perle di Sicilia
Trapani, Selinunte, Marsala, Egadi, Erice, Mozia, Pantelleria, Segesta.
Authors: Maria Rosaria Falcone e Romilda Nicotra
Pages: 176
Publication: June 1998
Available in English, French, German and Italian language.
Information about how to purchase this book
The territory of Trapani has numerous characteristics tied one to the other that constitute the same spirit of this province. Ecology, traditions, architecture, beaches, gastronomy, archaeology, mystery, history, adventure, handicraft, culture represent a single chain connecting all the centers and all people.
The monumental, artistic and archaeological patrimony of this earth is immense. Prehistoric coves, rests of mysterious people, Punic locations, Byzantine, Arab, Norman, Baroque, Renaissance and modern architecture. A sweet, wild, gorgeous nature surronds the human work.
Beautifulst gulfs, golden beaches, wild water reefs, course, sweet valleys, imposing mountains, lacustrine sites, natural reservoirs, salt magical yields from the games of the sun, volcanic islands.
The only true defect of the province of Trapani is that it does not enter all in a suitcase."
The authors collected in this volume the genuine soul of this splendid location, along with beautifulst pictures and a lot of useful information such as timetables, lodges, restaurants, stores and a calendar for events covering each month of the year.