---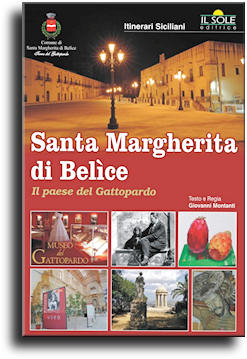 Santa Margherita di Belice: il paese del Gattopardo
Text and Direction Giovanni Montanti
Text revision Rosy Abruzzo
Consulting Baldo Cacioppo - Giuseppe Scuderi
Voice over Giancarlo Cara
Shooting Gianni Basciano - Enzo Lucchese
Assembling - Post-produzione Gianni Basciano
Duration min. 30
Price:
DVD: USD 50,00 (included mail delivery service to your address)
Available only in Italian language.
Information about how to purchase this video
Four centuries have passed since the founding of Santa Margherita di Belice. This documentary is a walk through time and space in the places of the ancient feud Misilindino and the barony of Corbera and Filangeri Cuto, an exciting journey that makes us live the same emotions he felt Giuseppe Tomasi di Lampedusa, which he called Santa Margarita, "a favorite between the country houses. "
The palace Cuto, its beautiful gardens, the museum dedicated to the author of The Leopard, the literary prize named after him, the old array into a museum of memory not to forget the earthquake of 1968, the festival of the prickly pear the impressive processions of Santa Rosalia and the SS. Crucified.
From here the past kings, queens, princes, barons, cultured men and men of talent, directors, actors, writers and poets. Here was born and lived in dignity to the people who every day of his life, with their work, in sorrow or in joy that gives emigration to live in your hometown, has helped to keep the name of a city whose path continues with the hope of a better future.