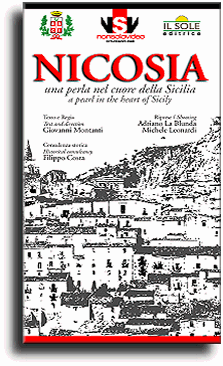 Nicosia: a pearl of the heart of Sicily
Text and Direction Giovanni Montanti
Voice over (Italian version) Giancarlo Cara
Voice over (English version) Antonella Scaduto
Historical research and consultancy Filippo Costa
Shooting and Assembling Adriano La Blunda - Michele Leonardi
Post-production Nonsolovideo - Nicosia
Duration min. 40
Price:
DVD: USD 50,00 (included mail delivery service to your address)
Available in English and Italian.
The video was sponsored by Carmela Cesario-LiVolsi and by Linda Messina-Holde
Information about how to purchase this video
The churches, the works of art, the palaces, the ruins of the castle, the villas, the "masserie", the processions, the natural environment, are not simple marks of a town which is mindful of its glorious past and proud of its beautiful landscape, but they are the strong and living values which "Nicosiani" exported all over the world.
He who was born and still lives in Nicosia, who left the town and never returned, or the generation which was born abroad, all have the awareness of belonging to a community which was witness to the splendour and opulence that gave Nicosia its great charm.
Wherever they are, people from this shining pearl in the heart of Sicily will have pride in being "Nicosiani".
This documentary tells the ultra-millenary history of a town and its people.