---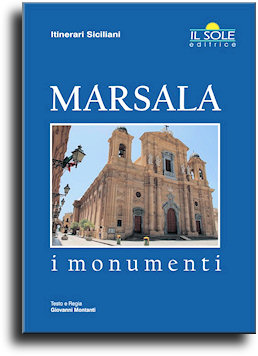 Marsala, the monuments
Text and Direction Giovanni Montanti
Voice over Giancarlo Cara
Shooting, Assembling and Post-produzione Gianni Basciano
Duration min. 30
Price:
DVD: USD 50,00 (included mail delivery service to your address)
Available Italian.
Information about how to purchase this video
The glorious history of Marsala told with a narrative full of news, together with the striking images of the historic center, its architectural treasures and its beautiful views.
A fascinating journey through time and space to explore what remains of the passage of peoples, cultures, architects, who made Marsala one of the most beautiful cities in Sicily.
Valuable tool for knowledge for students, scholars, enthusiasts, this documentary aims to become the object of study, the beginning of new insights, but also an invitation to the people living in Marsala so to become "tourists" in their city, "explorers" of a town to discover and rediscover, so to restore the relationship with their origins.
We deliver and dedicate this work to the young people of Marsala, so that they can know more about their city, and also to love and respect the same.
---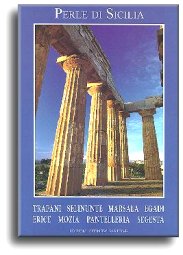 Perle di Sicilia
Trapani, Selinunte, Marsala, Egadi, Erice, Mozia, Pantelleria, Segesta.
Authors: Maria Rosaria Falcone e Romilda Nicotra
Pages: 176
Publication: June 1998
Available in English, French, German and Italian language.
Information about how to purchase this book
The territory of Trapani has numerous characteristics tied one to the other that constitute the same spirit of this province. Ecology, traditions, architecture, beaches, gastronomy, archaeology, mystery, history, adventure, handicraft, culture represent a single chain connecting all the centers and all people.
The monumental, artistic and archaeological patrimony of this earth is immense. Prehistoric coves, rests of mysterious people, Punic locations, Byzantine, Arab, Norman, Baroque, Renaissance and modern architecture. A sweet, wild, gorgeous nature surronds the human work.
Beautifulst gulfs, golden beaches, wild water reefs, course, sweet valleys, imposing mountains, lacustrine sites, natural reservoirs, salt magical yields from the games of the sun, volcanic islands.
The only true defect of the province of Trapani is that it does not enter all in a suitcase."
The authors collected in this volume the genuine soul of this splendid location, along with beautifulst pictures and a lot of useful information such as timetables, lodges, restaurants, stores and a calendar for events covering each month of the year.