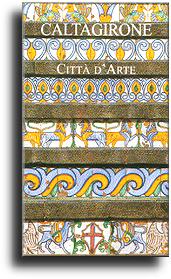 Caltagirone Città D`arte
Authors: Maria Rosaria Falcone e Romilda Nicotra
Pages: 96
Publication: July 2000
Available in English, French, German and Italian language.
Information about how to purchase this book
Situated over a hill overlooking the valley if the homonymous stream, Caltagirone boasts a conspicuous production of citrus fruits, grapes, cereals, and olives.
The local handicraft activity is relevant, producing beautiful artistic ceramics colored of green, blue, and yellow, and majolica objects exhibited at the annual Handcrafts Exhibit-Market held in the month of June.
The name Caltagirone derives from the Arab term Qalat-Jerun, that means "Castle of the burial grounds" because of the presence of vast necropolises throughout the territory. The first inhabited center rose in the surroundings of a castle during the Greek era.
In 1030, it was conquered by a colony of Ligurians headed by the Byzantine general Giorgio Maniace. In 1090, Count Ruggero D`Altavilla took possession of the suburb and christianized it. Approximately during 1458, a Parliament was assembled and it nominated Giovanni d`Aragona prince of Caltagirone and King of the Reign of Sicily.
Architecturally, the most interesting monuments are the Norman Duomo, dedicated to S. Giuliano, preserving beautiful paintings by Francesco Vaccaro (1802-1882), the Chiesa del Collegio erected by the Jesuits in 1593, and the Chiesa di S. Giacomo reconstructed after 1693`s earthquake.
Very relevant are also the Chiesa di S. Maria del Monte made precious by its big staircase, rich of polychrome majolica, that connects the town`s two parts, the Corte Capitaniale preserving noteworthy windows and portals by the artist Gagini (1478-1536), and the Chiesa di S. Nicola dated 1700, today`s is seat of the Sicilian Ethnologic Museum.
It is important to remember that Caltagirone is seat of the Museo Regionale delle Ceramiche (regional museum of ceramics) since 1965.
---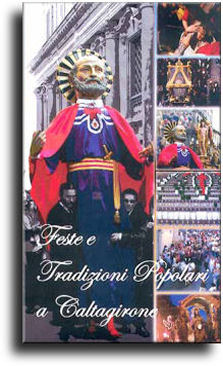 Feste e Tradizioni Popolari a Caltagirone
Authors: Umberto & Figli Fotografia
edited by : Dante Di Pasquale
Duration: 28 minutes

Available in PAL and in DVD
Information about how to purchase this video
A wonderful video-documentary that shows images and sounds of the most important religious feasts in Caltagirone:
the Passion of Christ
the Good Friday
the Easter Sunday with St. Peter
the "Scala Illuminata"
the feast of San James