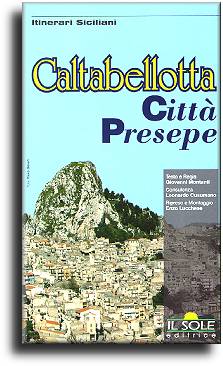 Caltabellotta: città presepe
Text and Direction Giovanni Montanti
Voice over Giancarlo Cara
Shooting and Assembling Enzo Lucchese
Post-produzione Lucchese Video
Duration min. 34
Price:
DVD: USD 50,00 (included mail delivery service to your address)

Information about how to purchase this book
Bundled like a swallow`s nest on the slopes of a mountain, in front of enchanting views and scenarios, surrounded by precipices and deep gorges, Caltabellotta offers one of the most pleasant and nicest mountain resorts of Sicily.
Ancient location, Caltabellotta preserves its original urban aspect, characterized by tiny, refined homes, bundled up closely, made precious by their elegant doors and ancient balconies; an entangled web of tiny streets smoothened by time; flights of steps within steep alleys connecting blocks; arches wrapping underground passages, where scents of our present blend with the ancient colors of history.
In the unsettling weaving of these small spaces, in the town`s surroundings, and in the valleys below, numerous are the signs testifying the millenary history of Caltabellotta: churches and monasteries, ancient Gothic doorways and the valuable works of art, the remainders of the Norman castle and the Sicilian necropolis, more archeological findings and a fragment of a Roman mosaic discovered in the Sant`Anna area.
Caltabellotta is the "Creche City" all year around, but during the Christmas season the town becomes even more fascinating. The architectural space blends with the value of the traditions; mountains and skies meet with the work of men, creating an almost surreal atmosphere all across the landscape.
This atmosphere leads us into the night, and under the stars, taking us through the lengthy itinerary of nature re-invented by men, nature once originated from nothing. We rediscover the memory of a specific time and space, that reveal themselves through the symbolic games of objects and gestures, values that have always been rooted within the deep history of each one of us, and always will.
---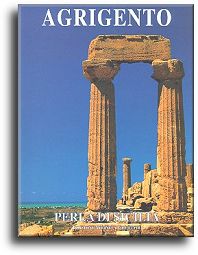 Agrigento - Perla di Sicilia
Authors: Maria Rosaria Falcone e Romilda Nicotra
Pages: 174
Publication: June 1999.
Available in English, French, German and Italian language.
Information about how to purchase this book
It is with great pleasure, and a touch of pride, that we prepare to take you on a trip to discover this enchanted land generous, wild, genuine and mysterious.
You will cross the Temples Valley, will pass under Chiaramontani arches , you will admire Saracen towers and medieval castles, baroque churches and rock sanctuaries, you will explore ipogei and the beautifulst coves. You will see beaches and incontaminate reefs, islands, mountains and forests, lakes and fabulous volcanos.
We will take you where sea-turtles lay their eggs, shearwaters sing, manta rays swim, sea-lilies and orchids flower. We will tell you about gastronomy, feasts and festivals, night life, shopping, hotels and restaurants. We will advise you where to relish local dishes, also where to stay and finally which souvenirs to buy.
You just have to follow us, possibly equipped with walking shoes, a diving mask, binoculars, camera and suntan cream.