---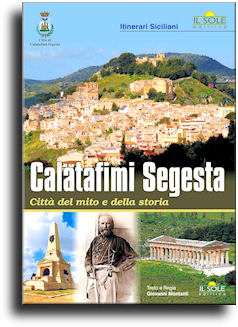 Calatafimi-Segesta: city of myth and history
Text and Direction Giovanni Montanti
Voice over Giancarlo Cara
Shooting and Assembling and Post-production Gianni Basciano
Duration min. 35
Price:
DVD: USD 50,00 (included mail delivery service to your address)
Available only in Italian language.
Information about how to purchase this video
A corner of Sicily capable of arousing strong emotions, a place where myth and history merge, where nature becomes the stage.
The temple of Segesta, the greek theater, the ruins of the castle, the medieval alleys of the neighborhoods, churches, works of art, ethno-anthropological museum, the museum Garibaldi, Western Roman Empire, the forest Angimbè.
This documentary is a fascinating walk through the landmarks of Calatafimi Segesta, a journey through ancient and recent history of a glorious country that keeps the memory of his past, even in the events that mark its rich liturgical calendar, the procession of the "Mmaculatedda" to those Corpus Christi and SS. Crucified, by devotion to the Virgin of Giubino to that for the SS. Four Crowned.